Medical Office Assistant & Unit Clerk Program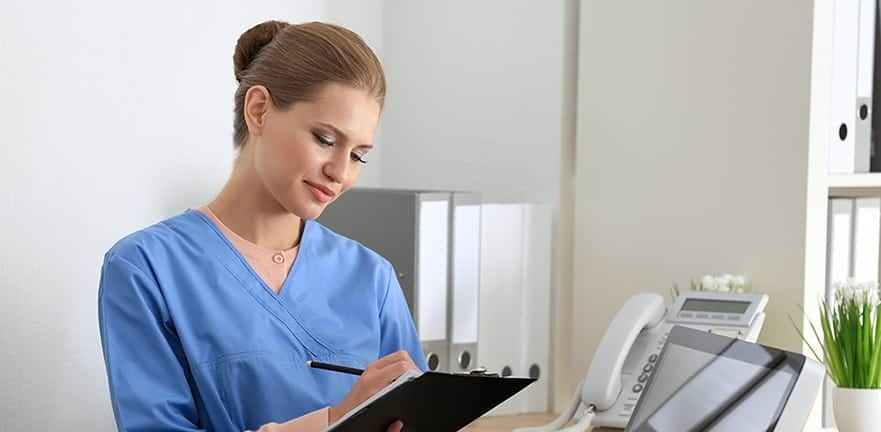 Business Communications
Computer Readiness in health care
Medical Terminology
Medical Office Procedures and Administration
Clinical Competencies for MOA
Financial Administration for the Medical Office
Medical Law and Ethics
Medical Transcription
Billing and Coding
Electronic Medical Record
Unit Clerk
Instruction 23 weeks
Practicum 3 weeks
Total Length 26 weeks
Aim
To equip and train students with the skills and knowledge necessary to succeed in their career aspirations.
Goal
To be known for developing highly employable, proficient and skilled graduates with excellent employer satisfaction rates.
Objectives
Medical Office Assistant Program(MOA)is tailored towards the healthcare industry. We aspire to build strong partnerships with the industry and to be known for developing accomplished, health focused administrative personnel able to oversee or run a health organization as well as assist in the clinical function effectively. The course introduces the students to the understanding of Medical Terminology, Clinical and Office Procedures, Alberta Health Care Billing transactions, and Medical Transcriptions as core medical subjects. Upon completion of this program, the students should be prepared to aid in overseeing medical office operations.
Positions that MOAs could transition into:
• Medical Office Administrator
•Administrative Coordinator
•Administrative Assistant
•Administrative Support
•Medical Secretary/ Office Secretary
•Scheduler
•Transcriptionist
•Data Entry Support
•Reception Support
Training Health Unit Clerks, as a non-clinical administrative member of the health care team, into a proficient coordinator of the hospital unit's information inflow from all levels -doctors, nurses, administration, patients and families. To be competent in assisting carrying out doctor's orders, transcription, scheduling, admissions, discharge, transfer and other clerical duties.A Unit Clerk able to organize, prioritize tasks, adapt to changes, with an effective communication and excellent interpersonal skills.Positions that Unit Clerks could transition into is similar to that of a Medical Office Assistant, but with more opportunities to work in a long term care facility or in a hospital.Majority of students would be accepted for employment in 6 months time.
Instructional Strategies
The program combines lectures, visual aides, hands-on learning via practical exercises, projects, exams, group discussions, and courseware that are easy to understand. Validation of knowledge through exams, practical tests, projects, and practicum evaluation.
Job Oppurtunities
Hospitals
Continuing care facilities
Rehabilitation institutions
Physician's offices
Diagnostic medical imaging offices
Medical clinics dental offices
Admission Requirements
A – Standard Admission
Students must meet ONE of the following criteria:
– Alberta high school diploma, verified by transcript, or non-Alberta equivalent,
OR
–  Successful completion of the General Equivalency Diploma (G.E.D.)
Also, students must
1. Provide clear criminal background
2. Has at least basic computers knowledge
3. Pass the admissions Interview
4. Provide completed immunization report showing current immunization, including Hepatitis B, and free of communicable disease
B-Mature Admission (If there no high school diploma or higher degree)
Students must meet the following criteria:
– Must be 18 years or older.
– Pass Wonderlic Test with score at least 16
– Provide clear criminal background
– Has at least basic computers knowledge
– Pass the admissions Interview
– Provide completed immunization report showing current immunization, including Hepatitis B, and free of communicable disease
COURSES DESCRIPTION
I. Business Communications (Module 1)
Professionalism in business communications with emphasis on correct English grammar, spelling and punctuation . Proofreading skills are also developed. Business communications exercises will further hone keyboarding skills.
– English Grammar
– Spelling Rules
– Using Punctuation and Numbers
– Proofreading-Business communication exercises
II. Computer Readiness in Healthcare (Module 2)
Essential computer knowledge and skills are taught to maximize efficiency in a fast-paced industry. Proficiency in MS Word, Excel, and Outlook provides the basic backbone in managing a variety of administrative healthcare tasks that could expand to the use of other software.
Introduction to Computers; Microsoft Outlook(Module 2.a)
Computer basics are introduced. Outlook is taught for communication collaboration, contact, calendaring, note taking and task management functionality.
– Introduction/ overview to computers
– Email Management and Assigning Categories-Calendar
– The Internet-Working with Contacts
– Using Tasks and Notes-Electronic File Management and Organizing Information
– Keyboarding skills with typing speed of 50+ wpm, with optimal accuracy of 100%
Microsoft Word(Module 2.b)
Prepares students to create different types of documents using Word formatting and processing tools to create a professional and efficient office.
– Getting Started
– Manipulating text
– Formatting Content
– Working with tabs
– Formatting Documents
– Getting Ready to Print
– Using Tables
– Working with Illustrations
– Creating Mass Mailing Documents
– Sharing Documents
Microsoft Excel(Module 2.c)
Students learn the uses of this end-user computing tool much relied onto build charts, format spreadsheets, bring data together and identify trends.
– Introduction to Excel
– Constructing cell Data-Formulas, Math and Calculations
– Worksheet Formatting
– Viewing and Printing Workbooks
– Working with Charts and Graphics-Analyzing, Organizing and Sharing Workbooks
Keyboarding Module (2.d)
– Proficiency is gained by correct finger placement building up to a typing speed of 50 word per min
III. Medical Terminology with Anatomy,Physiology and Pharmacology (Module 3)
Introduction to the human anatomy and physiology learnt through descriptions, illustrations, videos, flash cards and exercises. The basic structure of a medical terminology learned by knowing the roots, combining word, prefixes and suffixes. System-associated terminologies follow with corresponding abbreviations, pathologies, clinical and diagnostic procedures. Upon completion of this course, the students would have learned to:
– Identify, spell, and pronounce the basic component parts of a medical term.
– Acquire an understanding of the structures,physiology of the body systems.
– Name, spell, define pathologic conditions, drugs, lab ordiagnostic tests, and therapeutic procedures related to the systems being studied.
– Identify and define commonly used medical abbreviations and terminologies associated with the systems and studies listed below:•
Digestive System
Urinary System
Male and Female Reproductive System
Dermatology
Lymphatic System
Musculoskeletal System
Cardiovascular
Hematology and Immunology
Pulmonary
Endocrine
Nervous System
Sense Organs
Pharmacology
Psychiatry
Radiology
3. Medical Office Administration Procedures (MOP Module 4)
Enable students to have a clear understanding of the necessary skills an efficient Medical Office Assistant are expected to have in various medical settings such as medical clinic, private office, specialist's office or hospital.
Upon completion of the course the student will be able to:
– Do appointment scheduling
– Do inventory
– Filing correctly
– Office equipment functions
– Scanning, faxing , phone routing etc.
– Have a clear understanding of their role in different medical settings
– Explore growth in a healthcare environment
– Have knowledge in building a Policy and Procedures Manual
– Have excellent interpersonal and effective communication skills
– Ensure a healthy work environment and prevent work related injuries
– Learn cultural tolerance and understanding
– Deal with difficult patients
4. Clinical Competencies for MOA (Module 5)
– Relate microbiology in asepsis, sterilization, and disinfection procedures
– Take and record vital signs
– Patient preparation and assisting physician in a procedure
– Proper collection of specimens and completion of requisitions
– Complete basic diagnostic urinalysis
– Recognize medical instruments and inventory medical supplies
– Familiarity with Quality Assurance in a healthcare environment
5. Financial Administration for the Medical Office (Module 6)
– Banking procedures
– Payroll
– Financial management
6. Medical Law and Ethics (Module 7)
-Health Information Act(Module 7.1)
7. Medical Transcription (Module 8)
Familiarizes the students with various letters and reports dictated routinely by a medical professional in different accents. Proper formatting, sentence structure, punctuation, grammar and spelling are learnt with attention to detail.This is to develop listening and comprehension,editing and proof reading skills.Confidentiality emphasized.Taught upon completion of Medical Terminology, MOP and Clinical Competencies to reinforce medical terms and procedures, and further improve keyboarding skills.
Upon completion, the students would have learned to:
– Understand the basic concept and rules in medical transcription.
– Place utmost importance to confidentiality.
– Set up and use a transcription machine.
– Edit and proofread commonly transcribed medical reports, e.g.
Admission and discharge summaries
Chart notes
Consultation letters
Emergency room reports
History and physical exam reports
Laboratory,radiology and pathology reports
Operative/Procedure reports
Complete various reporting forms and styles using correct grammar and punctuation.
Use terminologies relating to different specialties and procedures.
Improve keyboarding skills-Improve listening and comprehension skills.
Improve on editing and proof reading skills.
Enforce attention to detail.
 Gain speed and accuracy in typing.
8 .Medical Billing and Coding (Module 9)
Guides the students to help physicians prepare claims for services that are insured under Alberta Health Insurance Plan (AHCIP)
Upon completion, the student would have learned to:
– Know what are insured and uninsured services under AHS
– Claims preparation and understanding what must be included in all claims.
– Up-dating data submitted.
– Verifying a patient's coverage
– Understanding Alberta's Statement of Assessment and Statement of Account
– Using Price Lists, Procedures List, Diagnostic Code, Explanatory Code.
9. Electronic Medical Record (Module 10)
10. Unit Clerk (Module 12)
Unit Clerk/Coordinator's tasks are non-clinical, administrative,in hospital nursing units. Working under the direction of the Nurse Manager or Unit Manager, they are essential in coordinating activities in the unit, monitoring patient's medical record, assisting in transcribing doctor's orders and other communications. Professional and interpersonal skills are vital in assisting medical and non-medical staff, even patients and visitors.
– Orientation to the Hospitals, Medical Center, and Today's Health Care
– Personal and Professional Skills (Communication and Interpersonal Skills, Workplace Behaviours, Management Techniques and Problem-Solving Skills)
– Patient's Chart or Electronic Medical Record (EMR); Kardex
– Unit Clerk's role in Processing Doctor's Order – Electronic, Handwritten or Pre-printed
– Abbreviations
– Nursing Observation Orders, Patient Activity and Positioning
– Nursing Intervention or Treatment Orders
– Nutritional Care Orders
– Medication Orders
– Laboratory Orders
– Diagnostic Imaging Orders and Other Diagnostic Studies
– Treatment and other Miscellaneous Orders
– Admissions, Preoperative and Post-operative Procedures
– Discharge, transfer and Post-mortem Procedures Reports,
– Infection Control, Emergencies, and Special Services
11 – Practicum
After completing all required courses students will be required to spend 120 hours of training in a medical office and a long term care facility. Minimum of 80 hours will be in a medical clinic and 40 hours will be in a long-term care center. Students are expected to practice all the skills and knowledge they have learned during their program. A practicum log form will be required to be filled and signed by the student's preceptor at the end of every work period. Student will be responsible for sending this sheet after completion to the college.
Non -Credit Courses
1. Job Search Strategies –Non-credit
Towards the end of the courses, two days are dedicated to job searching skills and understanding the labor market. Coaching in effective resume, cover letter making,
and mock interviews are done to correct, refine skills to increase employment readiness.
– Portfolios-Job search strategies
– Resume, cover letter
– Mock interview and retrospective review
– Role of the Social media
2. First Aid Level C/CPR–Non-credit
Student can get this training at any accredit training center or the college may arrange a training session for their students.