MEDICAL OFFICE ASSISTANT & UNIT CLERK
26 Weeks | 700 Total Hrs | 580 Theory Hrs | 120 Practicum Hrs
Heritage College's Medical Office Assistant and Unit Clerk certificate program readies students to enter Canada's growing healthcare industry. An experienced team of doctors, nurses, and other healthcare experts teach this course. Our instructors share their valuable, real-world knowledge and experience with students, preparing them to become part of a healthcare team.
Students of this program learn to oversee healthcare organizations and assist in clinical functions. This course introduces students to medical terminology, clinical and office procedures, Alberta Healthcare billing, Electronic Health Records, and medical transcriptions as core subjects. After completing this program, graduates will be prepared to aid in supervising numerous medical office procedures.
As a non-clinical member of a health care team, medical office assistants and unit clerks coordinate information from doctors, nurses, administration, patients and families. Students of this course learn to assist in carrying out a doctor's orders, transcription, scheduling, admissions, discharge, patient transfer and other clerical duties. Students also learn to prioritize tasks, adapt to changes, and develop effective communication strategies.
Heritage College's 6-month Medical Office Assistant and Unit Clerk program includes five weeks of hands-on work experience in Calgary-area medical facilities. We divide our practicum experience into two sections: one half in a clinical environment, and the other half in a long-term care facility. Graduates of our programs receive continuing support from Heritage College's Career Services department, including help with job search, resume and LinkedIn profile reviews, and interview preparation.
This program combines lectures, visual aides, hands-on learning via practical exercises, projects, exams and group discussions into an accessible learning experience. Validation of knowledge is done through through exams, practical tests, projects, and practicum evaluation. 
MEDICAL OFFICE ASSISTANTCAREER OPPORTUNITIES
Medical office assistants and unit clerks are core members of most healthcare teams. Certified graduates can find employment in hospitals, continuing care facilities, rehabilitation institutes, clinics and physicians' offices, diagnostic medical imaging offices and dental offices. Job titles of our graduates include medical receptionist, unit clerk, medical billing clerk, medical transcriptionist and clinic manager.
Students must be 18 years of age or older, and have one of the following:
• 

an Alberta high school diploma, verified by transcript

• 

a non-Alberta equivalent

• 

a General Equivalency Diploma (G.E.D.)
Students must also clear a criminal background check, have a complete immunization record, and demonstrate basic computer knowledge.
You can find additional information about our admission requirements on our Admissions Page. Please also visit our Scholarships and Grants Page for information about our current financial aid opportunities. 
Medical Office Assistant and Unit Clerk certificate program students complete a 5-week, 120-hour hands-on work experience at two Calgary-area partner institutions. One half of this work experience is at a medical clinic, and the other half is at a long term care facility. To take part  in this practicum, students must meet the following requirements:
To successfully graduate from the Medical Office Assistant and Unit Clerk certificate program, students must:
The Medical Office Assistant and Unit Clerk certificate program at Heritage College is an approved Vocational Program licensed by Alberta Advanced Education.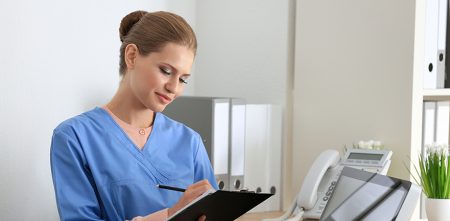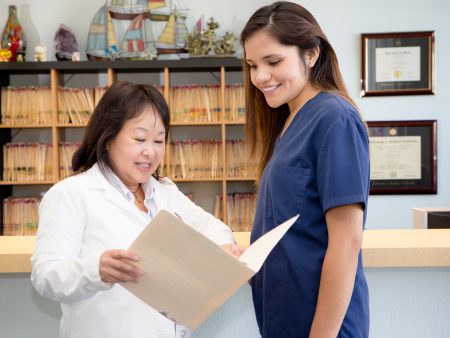 MEDICAL OFFICE ASSISTANT ANDUNIT CLERK COURSE DESCRIPTIONS
This is only an outline of our Medical Office Assistant and Unit Clerk program. For more information about our curriculum, please contact our admissions advisers.